Using TunSafe on Android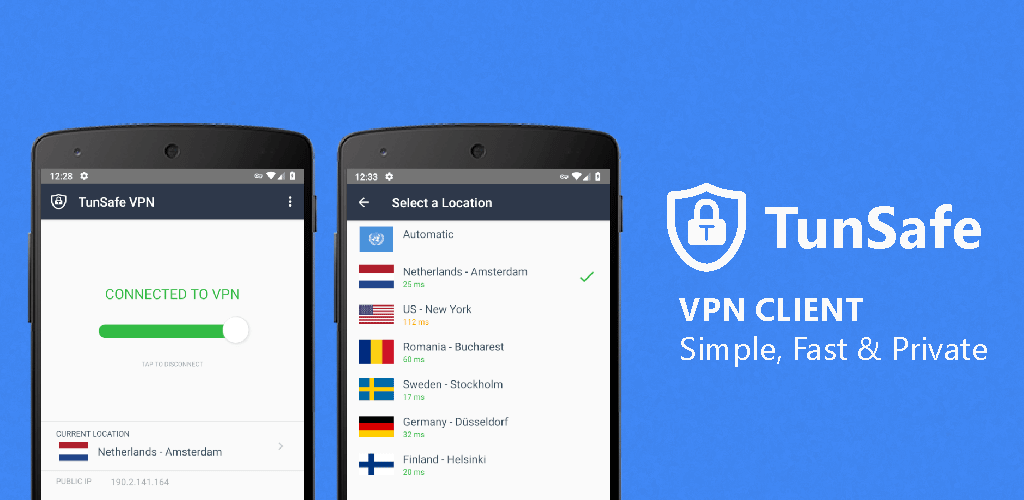 The Android client is available for download from the Google Play Store.
We also have a bleeding edge Android version that you have to install manually. This one has experimental support for TCP.
Download Experimental Android APK
TunSafe VPN for Android uses the official TunSafe VPN servers by default. When using those, there's no need to setup an account, just click a single button and all your Internet traffic will be routed anonymously through our servers.
You can also use a custom WireGuard configuration file from any WireGuard VPN provider of your choice.
When connected TunSafe encrypts all your traffic and hides your original IP address. With the LAN-IP bypass & Excluded apps features you can customize what traffic that should bypass the VPN connection. When Kill-Switch is enabled all internet traffic will be blocked in case the VPN connection is lost.
Unlike other WireGuard clients for Android, TunSafe is written in the C++ programming language to minimize cpu usage, memory usage, and extend battery life.
Why choose TunSafe VPN for Android?
Completely Free & No Ads
Written in C++ for maximum battery life
Includes the official TunSafe VPN servers
No registration required
Generous usage limits and no time limits
Fully anonymous and we have no traffic logs
Works with all types of Internet connections
Works with your own WireGuard config files
Many features: Kill-Switch, LAN-IP bypass, Excluded apps
The official TunSafe VPN servers for Android provide 30 days trial. After these 30 days the bandwidth is limited to 1GB/day. When using your own config files, no limits apply.